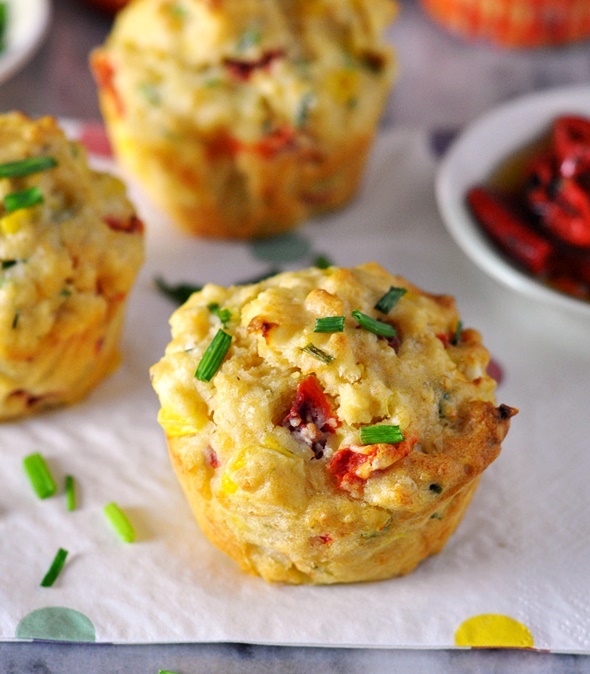 My beloved and I often bring packed lunch to work. What started out as a money saving exercise has morphed into our lifestyle which we thoroughly enjoy.
Our packed lunches have been leftovers from the night before. Then, I decided to make the good old fashion cold cuts and salad sandwiches for lunch. I confess that my sandwiches phase did not last long and somehow savoury muffins seemed like the next best thing to venture into.
Are you a fan of savoury muffins? These muffins contained quinoa flakes. Yes I have found another way of using quinoa flakes other than making porridge and the 5-minutes microwave cakes! Besides quinoa flakes, these muffins also contained sweet corn kernels, chives, roasted capsicum as well as feta. I know, all the yummy ingredients come together in the form of muffins which make this an ideal lunch box food.
So my dear friends, here's a one-bowl baking recipe for you to enjoy today. 🙂
[Healthy Lunch Box Recipe] Quinoa Flakes, Feta, Roasted Capsicum & Corn Savoury Muffins
Ingredients
225g / 8 oz self-raising flour
110g / 3¾ oz quinoa flakes
200g / 7 oz frozen corn kernels, thawed
120g / 4¼ oz drained roasted capsicum (pepper) in oil, diced
75g (2¾ oz) *feta cheese, crumbled
2 Tbsps snipped chives
250ml / 9 fl oz milk
1 egg
80ml (2½ fl oz) olive oil
Instructions
Preheat the oven to 180C/350F. Line a 12-hole muffin pan with paper cases.
In a large mixing bowl, add self-raising flour and quinoa flakes. Stir with a fork until well combined.
Add corn kernels, diced roasted capsicum, crumbled feta cheese and chives to the flour mixture. Stir again with a fork until well combined.
In a glass jug, add milk, olive oil and egg. Use the fork whisk until well mixed.
Pour the wet mixture into the mixing bowl. Mix all the ingredients with a fork until just mixed.
Use a soup spoon to transfer the muffin batter into the individual cases.
Bake in the preheated oven for 20 minutes or until a cake tester comes out clean. Set aside for 5 minutes to cool and then transfer to a wire rack.
Serve warm or at room temperature.
Notes
Adapted from Chrissy Freer's Supergrains cookbook. As per the author, these muffins can be frozen for up to 1 month, wrapped well in plastic wrap. Thaw at room temperature.
http://www.fussfreecooking.com/recipe-categories/meatless-recipes/healthy-lunch-box-recipe-quinoa-flakes-feta-roasted-capsicum-corn-savoury-muffins/
Visit www.fussfreecooking.com for more delicious recipes.
p/s:  The May blogger feature is postponed and will be up some time next week.
Don't forget to subscribe to Fuss Free Cooking for regular meal inspirations delivered straight to your inbox!