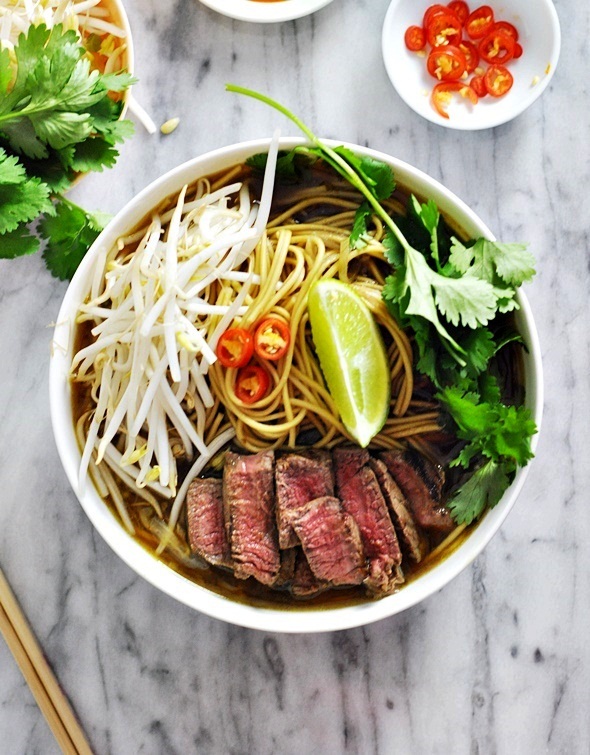 I have always wished to make my own beef pho. It's so comforting and refreshing having noodle soup as a meal. I love the crunchy bean sprouts, the ever-so-flavourful broth, the fresh coriander, the lime juice and last but not least, the slices of beef to complete the noodle soup.
Before I proceed further, I should warn you that this is by no means an authentic beef pho. In fact, the base flavour of the broth hails from Thailand i.e.  the Thai green curry paste!
Yes, my friends, this is my cheat approach to the popular Vietnamese dish! I know I am such a "cheater" when it comes to home cooking ha!
Having said that, I can guarantee you that it is no less delicious and satisfying. As my beloved and I feel a little strange about having raw beef slices on top of our noodles, I grilled the beef marinated in Thai green curry paste on a griddle pan before topping the noodle soup.  As for the broth and noodles, I cooked them all in one pot. Yes, there's no need to blanch the noodles on a separate pot. Isn't this music to your ears?
Asian Beef & Noodle Soup with 5-Ingredients Beef Broth
Ingredients
Marinated Steaks:

200g beef fillets
1 Tbsp Thai green curry paste
1 Tbsp cooking oil

5-Ingredients Beef Broth:

3 French shallots, thinly sliced
1-inched thick ginger, sliced
3 cloves of garlic, finely chopped
4 tbsps Thai Green Curry Paste
2 litres low-sodium beef broth
2 cups water
270g Hakubaku organic dried ramen
Fish sauce to taste

Garnishes:

Bean sprouts
Fresh coriander leaves
1 lime, cut into 6 wedges
Fresh red chillies
Instructions
On a flat plate, mix 1 Tbsp Thai green curry paste with 1 Tbsp cooking oil. Coat the steaks with the curry paste and marinate for 20 minutes if time permits. Cook on a hot griddle pan on both sides to your liking. Transfer to an aluminum foil and keep warm.
In a 3.5 litres pot, add a teaspoon of cooking oil. When the oil is hot, add shallots and ginger and saute over low heat until aromatic. Add garlic and saute further until the garlic is aromatic.
Add 4 Tbsps of Thai green curry paste and saute for a couple of seconds.
Add beef broth and 2 cups of water. Cook the broth until bubbling. (While waiting for the broth to bubble, I would suggest that you start thinly slice the beef.)
Add the dried ramen to the beef broth. About 2 minutes before the recommended cooking time, check the broth for taste. Season with fish sauce to taste.
When the noodles are cooked, scoop out the noodles to 4 individual bowls, add the garnishes including bean sprouts, coriander, chillies as well as the sliced beef.
Then ladle the broth over the noodles and serve immediately with the lime wedges. Enjoy!
Notes
If for some reasons you are not serving the noodle soup immediately, what I would do is to remove the noodles from the broth and send them aside on a bowl covered with a cling wrap. When you are ready to eat, reheat the broth. When it is boiling rigorously, add the noodles back to the broth to reheat.
http://www.fussfreecooking.com/recipe-categories/meat-recipes/recipe-asian-beef-noodle-soup-with-5-ingredients-beef-broth/
Visit www.fussfreecooking.com for more delicious recipes.
Don't forget to subscribe to Fuss Free Cooking for regular meal inspirations delivered straight to your inbox!